A brief history of my 30+ years of video game collecting.
A brief history of my 30+ years of video game collecting.
It all started back in 1981 when my brother who was much older than I handed me his Atari 2600 Heavy Sixer, I was 8 years old. After that my mother, father and others would buy me a game or 2 for birthdays and X-Mas and my collection began to grow. Fast forward to 1986 the NES was already out for a while and I was still playing Atari 2600. I would visit my friend who owned a NES and when I saw it for the first time my Jaw droped when I saw what was on the screen. It was so beautiful, it was Super Mario Bros. and it looked just like the arcade version! One day, not to far from my birthday my Atari would no longer power on. I was bummed out yet somewhat excited as I knew my birthday was coming up and this could mean a new console was in my future. My birthday came and I was right a new console was waiting for me but it wasn't a NES it was a replacement Atari 2600. Needless to say I was a little bummed out, but not much I could do about it so life went on and I continued to play and collect for my Atari 2600. In 1989 the day I turned 16 I had moved out, not cause my parents sucked or anything, I was just a crazy kid who wanted to be free. Little did I know that freedom had a big price but that's a whole other story. Anyway the day I left I handed my video game collection over to my younger sister witch consisted of 2 Atari systems (including the broken one) about 100 games and all 5 of the Coleco tabletop arcade looking electronic games. And told her to keep them safe. It's now 1991 i'm 18 and I have a full time job and the SNES hits the market. Though I didn't have a ton of cash on hand I did have a huge jar of coins. I promptly rolled all my quarters, dimes, and nickels and headed to KB toys and I had enough coin for a system that came with Mario World and i got one other game. Yes I paid with my rolled change lol no lie! It's now Feb. of 1997 and I had met the woman of my dreams and I had bought my first home (yes it was a dump but it was cheap, a 2 family, and made me money). I also sold my 1979 Firebird for 1800.00 but the kid only had 1500.00 so we agreed that I would take his brand new Playstation1 with a handful of games including FFIIV (I loved that game). By 2000 the PS2 was out and I had a large collection of PS1 games so I traded in a few to help fund my purchase of a brand new PS2. Later that same year my younger sister decided that she was going to move to NY City witch was about 4 hours from me and she handed me back all my old Atari and Coleco stuff. I was so happy and from then on collecting video games became a passion for me and I started buying any games I could find for all my old systems and buying other old systems that I never had a chance to get while I was younger. It's now 2015 and im 42 and to this day I still buy video games new and old, although not quite as much as I used to.
I consider my self a collector of 30+ years cause I still own everything I described above and although I've been collecting so long I really don't have a mega collection or anything but it's a pretty good size.
Here are a few pics of the stuff above and my current collection/game room.
1983 84 Me and my bro playing Radiers or the lost ark - Atari 2600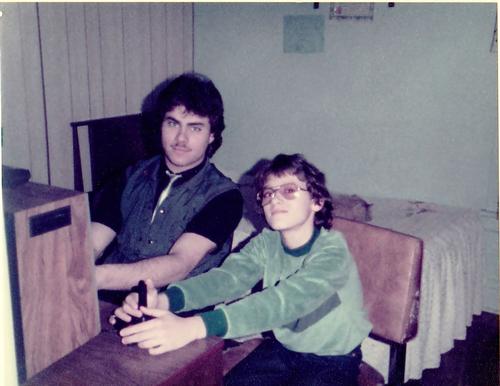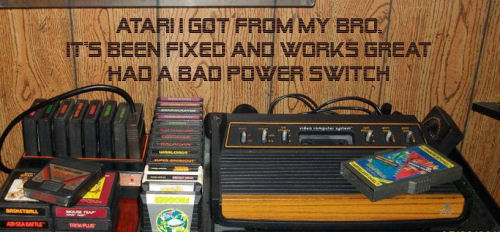 Coleco Tabletop games i got when I was a kid.

Super Nintendo I bought when I was 18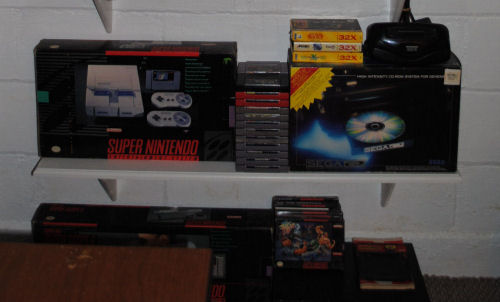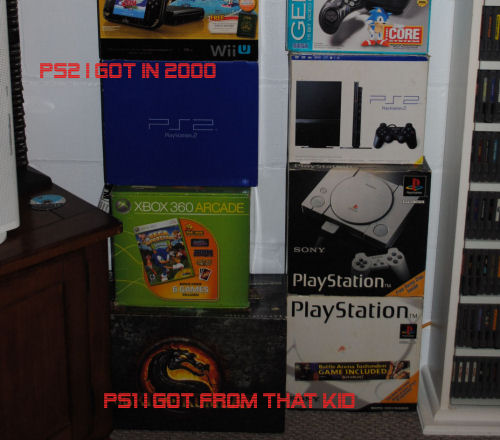 2015 Current Game Room